(Translated interview with Stargate on Katy Perry, published in the Norwegian newspaper VG)
When Katy Perry concludes tonight's concert at Telenor Arena, it's with Firework, the song she made together with Stargate, the Norwegian hit maker duo Tor Erik Hermansen and Mikkel Storleer Eriksen.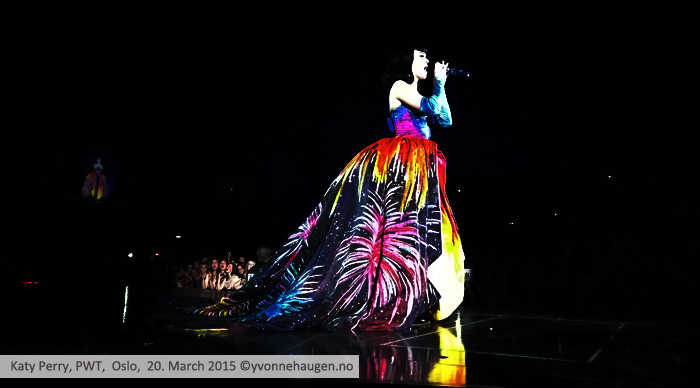 Firework (2010) is, according to Wikipedia, the American superstar's biggest hit in the US. To date, the album sold about seven million copies in the US alone.
It is the final song at Perry's Prismatic tour (playing in Oslo tonight). It was also the last song in her highly praised halftime entertainment at this year's Super Bowl, which was seen by a record number of 118.5 million TV viewers in the US.
Firework was the first song Stargate made together with Perry, and it took just one day to nail it.
– A good day at work. We made the music; Katy made "topline", ie text, melody and concept. I would say it shows she is at the top level where songwriting is concerned, says Hermansen/Stargate.
– I don't think people are aware of how skilled she is at it. She has worked with Max Martin and Dr. Luke, and then it is not always easy to know who really wrote the songs. But when we met her, it was clear to us what a talented and purposeful songwriter she is.
Stargate, who have ten number one hits in the USA on their resume, were also impressed by Perry's voice qualities.
– As a vocalist, I would say that she is undervalued. She sings the pants of most others. When we created Firework we did demo vocals the first night, which were very good and raw. We decided to keep them exactly as they were, without adding choir or overdubs. You can only do this with the really good singers. This rawness suits Katy. Because she usually sings such perfect produced pop hits I don't think people realize how good she is as a singer, says Hermansen.
Perry, who has 67 million followers on Twitter, hailed often their "girl next door" quality.
– Katy is like: if she puts on yoga pants and cap, she can probably mostly go in peace on the street. She is able to both turn it down and turn it up. She has a kind of "ordinary" quality, but she has much more to offer than that. She is incredibly smart; she is quick in the head and has a good sense of humor. Fun to be with!
To date, Stargate have made four published Perry songs; two on the album Teenage Dream (2010) and two on Prism (2013).
– We also made Black Widow with her, which she decided to give to Iggy Azalea, and it went to no. three in the US last fall, so we have good "track record" with Katy. If she'd like to do more work with us, we are ready.
Having worked with artists like Rihanna and Beyonce, Stargate is well accustomed with high star factor. Working with Perry has nonetheless made an impression on the duo.
– It was certainly fun to create a song with her that was just as great – or greater – than hits made by the team behind her break through. She was, for better or worse, "married" with Luke and Max, and when you are in that situation it is easy for an artist to think that it is best to stick to your regular producers.
We like to create songs that are well received on release, but it's also fun when they stand the test of time, like Firework has. It was a great moment to see how they solved it with production and fireworks at the Super Bowl.
– What can the audience in Telenor Arena expect tonight?
– They get the full Perry package, and that means a show in the true sense. Her concerts have very musical inspired numbers, concepts and costumes, and I think very many of the ideas are her own. I also think that the audience gets to see a lot of humor her. In sum: she really gives of herself.
Translated from Stargate interview in the Norwegian newspaper VG
http://www.vg.no/rampelys/musikk/stargate-om-katy-perry-morsom-smart-og-undervurdert/a/23418854/
Previous post
Next post